POINSETTIAS ALREADY??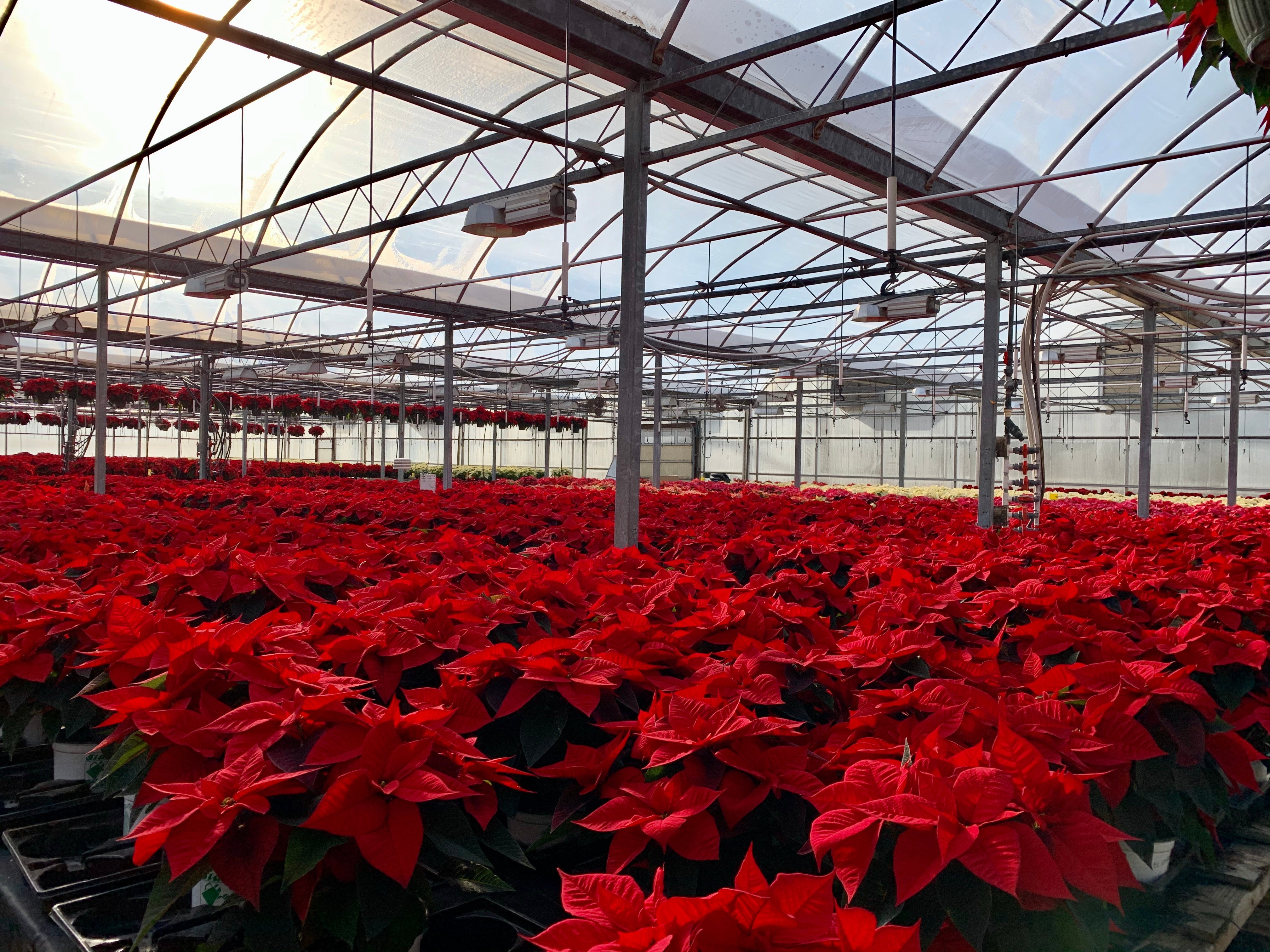 Yes, you read that right.. poinsettias, already. Production for poinsettias actually started in July and we are almost to our last planting of them. Our poinsettias are started in an oasis growing medium, which is a soilless medium that provides optimal drainage.
You may be thinking it's too early for poinsettias but since the days are (unfortunately) getting shorter, this creates the perfect environment for growing and getting poinsettias to bloom.
Poinsettias are photosensitive. It is imperative that poinsettias follow the daylight hours of mother nature to get them to bloom. This means if you have a poinsettia from a previous year and want it to bloom again, it must be in a room that receives totally natural light and no light at night, even from a nightlight or turning the light on quickly in the middle of the night.
Our poinsettias start in our coolest greenhouse and will eventually be moved and spaced into a heated, climate controlled greenhouse as the outside temperatures drop. Even though they are thought of as a winter flower, poinsettias cannot tolerate any cold.
About two weeks after they are planted, we pinch the tips off of the plant. This promotes a stronger root system and better branching, which creates a nice, "tidy", bushy plant.
Poinsettias are commonly susceptible to white flies and root rot. It is important that poinsettias are not sitting in water or drying down too far. We often use biological bugs to treat white fly, but if it does get too severe we opt for pesticides. If you're looking to treat white fly at home, it would be best to treat it  with soap, a neem oil, or some type of pyrethrin for multiple applications.
Poinsettias require a lot of fertilizer so it's important that they are being feed regularly before they bloom, ideally during the months of September to October. We feed at regular strength almost every time we water our poinsettias. 
Our homegrown poinsettias are usually available for sale in late November to early December. They come in a number of sizes from 5" to 12" and a variety of colors, including white, pinks, speckles, and marbling. Here's just a few!
During this time of year, we also sell live and artificial wreaths with or without decorations, live centerpieces, live Christmas trees, Christmas/winter decor, and much more! A Stan's gift card also makes for a perfect gift! 
---